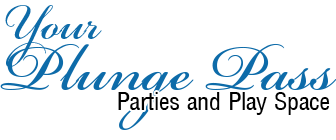 Your Plunge Pass gives you access to all of our exclusive parties, our private play space and the rest of the Plunge Itinerary.
Plunge Parties - Day and Night at the Plunge Pool
Hedonism II refers to this pool as the "clothing optional pool" or sometimes the "prude pool".
While we are there it will be the "Plunge Pool", still clothing optional but definitely not prudish!
The Plunge Pool - Get Your Daily Dose of Deviance
The Plunge Pool is set beneath peacock palms and cottonwood trees at the center of the resort, right on the beach.
If sunshine is your thing there are plenty of chaise lounges beside the pool and on the beach.
If shade suits you better then relax in the hammocks that hang from the trees or stretch out on one of the 4 cabanas that surround the pool.
The fifth and largest cabana is home to the bar.
Onyx & Azure - Our Private Play Space
At night we'll transform the Plunge Pool into our own private play space for Plunge Pass holders only.
Play, party or just people watch from around the pool while you enjoy the DJ's music and our all new suite of dungeon furniture.